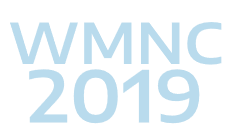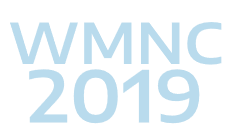 12th IFIP Wireless and Mobile Networking Conference
September 11-13, 2019
Paris, France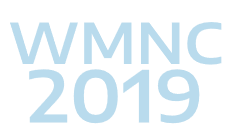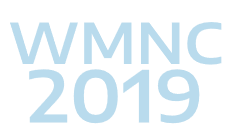 12th IFIP Wireless and Mobile Networking Conference
September 11-13, 2019
Paris, France

Call for Workshop Proposals
The 12th IFIP Wireless and Mobile Networking Conference (WMNC 2019) will be held on September 11-13, 2019 in Paris, France. WMNC provides a forum for discussion for researchers, practitioners and students interested in new developments in mobile and wireless networks, services, applications and mobile computing. WMNC combines PWC (Personal Wireless Communications conference), MWCN (Mobile and Wireless Communication Networks conference) and WSAN (Wireless Sensors and Actor Networks conference) into one event. It is Technically Sponsored by IFIP and IEEE.
IFIP WMNC invites proposals for full-day or half-day workshops. The purpose of the workshops is to complement the conference program with in-depth or integration fora that are dedicated to related and emerging topics (i.e. 5G slicing management and control, AI and 5G, Vehicular Networks, 5G for IoT, new Wi-Fi generation, etc.) or other specific topics of WMNC 2019. Proposals from industry and academia are welcome.
Accepted and presented workshop papers will be published in the conference proceedings and will be submitted to IEEE Xplore.
Workshop proposal submissions
Each WMNC workshop proposal has to be submitted in a single PDF file and must include:
Name and abbreviation of the workshop
Names, addresses, and a short (200 words) bio of the major organizers (including TPC (Co )chair(s) and OC General (Co-)chair(s))
A brief description (1 page) of the technical focus addressed by the workshop, reasons why the workshop is of interest at this time, and reasons why this area is important in the context of WMNC 2019 and main theme; additionally, state explicitly why this workshop is unique.
Technical Program Committee (TPC) and/or Organizing Committee (OC)
Likely contributors and targeted audience
Planned format of the workshop,
A description of past events of the workshop, including statistics of submitted/accepted papers and attendee numbers.
A draft of 1-page "Call for Papers (CfP)" including title, description, topics, dates Submit workshop proposals via email to the workshop program chair of WMNC 2019:
Important dates for workshops
Workshop submission deadline: March 8, 2019
Workshop acceptance: March 15, 2019
Workshop paper submission deadline: April 30, 2019
Workshop paper acceptance: June 1, 2019
Camera-ready papers: June 21, 2019
Workshop dates : September 9 and 10, 2019
Important dates
Paper Submission Due
April 20, 2019
Paper Review Feedback
May 27, 2019
Final Papers Due
June 10, 2019
Conference
September 11-13, 2019
Organized by