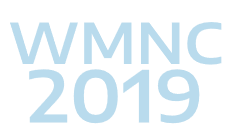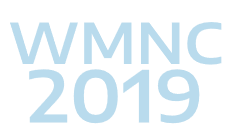 12th IFIP Wireless and Mobile Networking Conference
September 11-13, 2019
Paris, France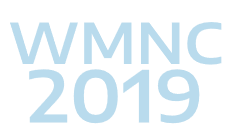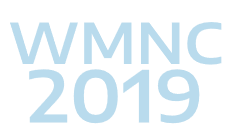 12th IFIP Wireless and Mobile Networking Conference
September 11-13, 2019
Paris, France

Call for Demos
WMNC'2019 seeks proposals for live demonstrations of vehicular networks and connected vehicles technologies. Demonstrations involving the audience are most welcome. Research prototypes i these areas as well as advanced commercial solutions are also eligible. As a high-profile, leading edge forum, for researchers and engineers in the field of networking, WMNC'2019 offers a unique opportunity to showcase applications, exchange with a highly skilled audience and discuss around emerging technologies and paradigms and recent research prototypes with key leaders in vehicular networks and connected vehicles technologies. The presenter is expected to insist on how the demonstration supports innovative research results or original applications and/or the value for the community of the vehicular test platform. Demonstrations of previously published systems are also welcome.
We welcome demos coming from both industry- and academic-related research groups. Authors of contributions submitted at WMNC'2019 are also encouraged to submit a demo in the area of vehicular networks showcasing the concepts and more technical aspects presented in their paper(s). Further, authors of Demos accepted in previous editions are invited to submit a new demo proposal showing the progress they have done.
Submission guidelines for Demos
Prospective contributors are expected to turn in a demo proposal in the form of a 2-page extended abstract, plus a one-page appendix detailing the demo, in IEEE conference double-column format (following the same format as the main conference). In the one-page appendix (which will not be published in the proceedings) authors should include a summary describing the demonstration, the equipment that will be used, and any special request concerning, e.g., power connections, Internet access, physical space, etc.
Demo papers will be peer-reviewed and accepted papers will be included in the conference proceedings. Demo proposals will be reviewed by the WMNC'2019 Demo Chairs and will be accepted based on availability of demo space as well as on the following criteria:
Extent and significance of the research contribution,
Potential impact on the audience,
Quality of the proposed implementation,
Presentation quality
Demo papers must be submitted at https://edas.info/N25417
At least one author of each accepted demo proposal is required to register for the WMNC'2019 Demo main conference (at the full rate) and present the demo at the scheduled demo sessions, on Wednesday the 19th and Friday the 21th of June.
Important dates for Demos
Submission deadline: April 30, 2019
Author notification: June 1, 2019
Camera-ready papers: June 21, 2019
Feel free to contact the WMNC'2019 demo chairs if you have any questions regarding the demo content or setup: Lyes Khoukhi, UTT-Troyes, Lyes.Khoukhi@utt.fr
Important dates
Paper Submission Due
April 20, 2019
Paper Review Feedback
May 27, 2019
Final Papers Due
June 10, 2019
Conference
September 11-13, 2019
Organized by